PowerHouse Class Activity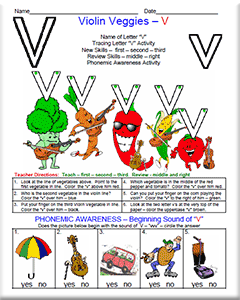 Wow! Our Favorite Activity
Each activity teaches a letter name, a simple phonemic awareness activity and many different essential pre-reading skills. Provides an absolutely wonderful classroom activity that teaches and reviews so many important skills. We call this our PowerHouse activity because there is so much information covered - nothing boring here! We have one for each of the 26 letters of the alphabet. Powerhouse should always be done as a teacher-guided activity.
Before passing out the worksheet, place a pile of many different colored crayons in the middle of the table making sure there are ample crayons for the color that is needed in the activity. Since you are asking questions - there is the "fun" of finding the correct answer as you slowly progress through the activity.
Advanced Phonics Worksheets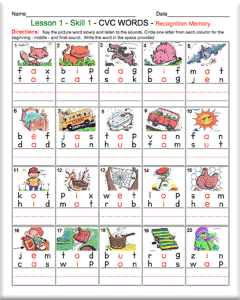 What Sounds Do You Hear?
An excellent phonemic awareness activity in which students pick the first, middle and final sound in each word. Note how only two choices are given for each sound - This provides a "clue" that stimulates their recognition memory which greatly increases likelihood of correct answers. Five difficulty levels of the same activity are provided, each with the same 20 words, but becomes progressively more difficult as some columns do not give clues.
Students circle the letter for the beginning sound - then the middle sound - and the letter for the final sound. Available in many different vowel sound categories including short vowels - long vowels - digraphs (ai - ee - oa - etc) and r-controlled vowels (ar - er - ir - ur - or). The activities should be repeated often to insure mastery of letters, sounds and skills taught.. Also, our Mr. Ed Phonics Tutor is basically the same activity but is done on a computer or phone and includes talking cartoon characters to assist.
Mr. ED Phonics Tutor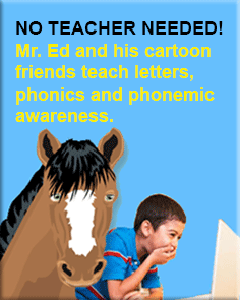 Powerful one-on-one tutoring!
Some students simply take longer to learn essential pre-reading skills. If these students are pushed to higher reading levels without 100% mastery of critical pre-reading skills, their progress is slowed dramatically. To prevent this situation, we developed a sophisticated program that uses fun videos and intelligent interactivity to teach alphabet letter names, sounds and phonemic awareness skils. Just place your student on Mr. Ed and he'll do the rest!
Here's how it works... Mr. Ed uses 10 common three-letter nouns to teach essential letter names, phonics and phonemic awareness. He begins by explaining to your student what to do and asks the student to click on a letter in column 1. If the answer is correct, he and his friends give a "good-job" comment and move to the next letter. If incorrect, a cartoon video immediately begins playing that teaches the correct answer. This is known as immediate feedback and results in greatly accelerated learning. Because our cartoon characters correct and teach after every mistake - this makes for a powerful tutoring activity that will keep students involved for 20-30 minutes without needing any teacher assistance. Isn't that nice! Also included is a HELP button, so even before picking a letter, they can be told the sounds of the letters in that column, thereby, greatly increasing the likelihood of a correct choice. On top of this, there is also a database included with Mr. ED in our membership version. It records all correct and incorrect student responses (and time spent on the activity) to the Mr. Ed database. For example, you could have your students do this activity as a follow-up test and go to the database to see every correct and incorrect answer from your computer. Mr. Ed is also an excellent tool that can also be used with non-English speaking students as a powerful first step for learning essential beginning reading skills.